Before the End - Winner (ПРЕДИ КРАЯ)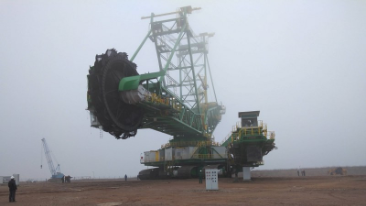 Eldora Traykova | Bulgaria | 2020 | 54'

Dialogues

Bulgarian

Subtitles

English
Synopsis
ENG
The documentary film reveals the last days of a village that will soon be erased from the map. The reason is that it is located in a large lignite coal basin and the deposits of coal under it are necessary for the operation of several thermal power plants on the territory of the industrial energy complex Maritsa-Iztok. What worries and disturbs the few villagers, who have not left their homes yet, how do they envision their future while excavators are destroying their houses? In their answers and confessions, one can sense anger, helplessness, reconciliation, but no hope.
Eldora Traykova is a documentary filmmaker. She studied at NAFTA, Sofia. Her credits include more than 40 documentary films such as NEON LIGHT TALES (1993), OF MEN AND BEARS (1996), LIFE IN A GHETTO (1999), BORN WITH THE CENTURY (2000), DANCING BEAR PARK (2004), CAMBRIDGE (2015).
BG
Филмът разказва за последните дни на село, което скоро ще бъде заличено от картата, защото под него се намират залежи от въглища, необходими за работата на няколко ТЕЦ на територията на промишления комплекс "Марица – Изток". Какво вълнува неколцината жители на селото, които още не са го напуснали, как си представят своето бъдеще, докато багерите разрушават къщите им.


Eurydice - Winner (ЕВРИДИКА)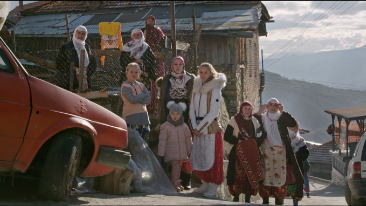 Laure Chichmanov | France | 2021 | 8'

Subtitles

English
Synopsis
ENG
In the heart of the Rhodopes Mountains, the kingdom of Orpheus, hides a small village with deep-anchored traditions. For decades, it is the women who are maintaining them, as well as a certain independence… Laure Chichmanov was born in 1988. Half Bulgarian, she grew up in Russia and lives now in Paris. She studied political science before making her way through the cinema industry as an assistant director and photographer. She is now working as a scriptwriter and is developing her own projects as a filmmaker.
BG
В сърцето на Родопите, там където е царството на Орфей, се крие едно малко село с дълбоки традиции. От десетилетия, жените са тези, които се грижат за опазването на обичаите и ритуалите, което превръщат в своеобразна форма на независимост.


The Building of the Braves - Winner (БЛОКЪТ НА СМЕЛИТЕ)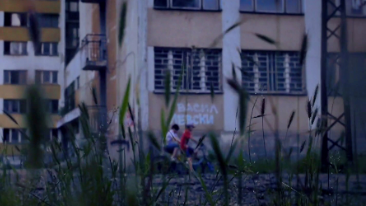 Bojina Panayotova | Bulgaria/France | 2019 | 23'

Subtitles

English
Synopsis
ENG
Sofia, 13 June 2014. As every day, Ivan returns to the building from which he was evicted. He comes to feed his children, Gigi, and Sara, two stray dogs who still live there. But that morning, the dogs disappeared. Ivan embarks on a desperate quest through the Bulgarian capital to find the dogs. Bojina Panayotova was born in Bulgaria in 1982. After the Berlin wall fell, at at the age of eight, she emigrated with her family to France. After studying philosophy at the Ecole Normale Supérieure and cinema at La Fémis, she returned to Bulgaria and began to make "wild" films. She also works with director Boris Lojkine as a screenwriter and script consultant. Her first feature documentary, I SEE RED PEOPLE, was screened in the Berlinale Panorama section. THE BUILDING OF BRAVES has awards from the festivals Cinema Du reel and Ghent International Film Festival.
BG
София, 13 юни, 2014г. Като всеки ден, Иван се връща в сградата, от която е изгонен. Ходи там, за да храни своите деца Сара и Гиги - две бездомни кучета, които все още живеят там. Но кучетата са изчезнали. Иван поема отчаяно пътешествие в търсене на кучетата из София.


Pianocean - Under The Western Sky - Winner (ПИАНООКЕАН - ПОД ЗАПАДНОТО НЕБЕ)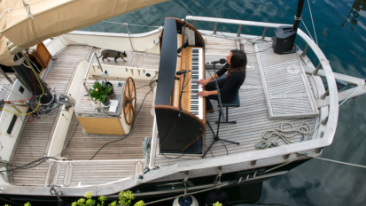 Pierrick & Anne-Lise LePellec | France | 2020 | 40'

Subtitles

English
Synopsis
ENG
This is the story of a 50kg bird, a dark-haired, green-eyed girl. A pianist, singer, composer, sailor…a bird you don't mess with! It's the story of a piano, a boat, and a mildly crazy dream which tenacity and hope allowed to exist. Pianocean is a cry from the heart that tells us that it is possible to make our dreams come true, despite the crowds that yell at you to give up on these childish things and stop dreaming, to take life seriously, and yet… yet, starting from a dream in your head, created by the verses of a drunken boat and the legend of the ocean pianist, when one is only just 18, until its final realisation whatever the cost. To face up to doubts and struggles and to welcome with open arms and to never, never give up, give yourself body and soul and fulfill your dreams, that is "to take life seriously".
BG
Това е история за петдесет килограмова птица, тъмнокосо момиче със зелени очи. Пианист, певец, композитор, моряк… птица, с която не се забъркваш! Това е история за пиано, лодка и една леко луда мечта, която се реализира, благодарение на упоритост и надежда.


A flock of birds in the vicinity of the runway (ЯТО ПТИЦИ БЛИЗО ДО ПИСТАТА)
Miroslav Christov | Bulgaria | 2021 | 19'

Subtitles

English
Synopsis
ENG
The airport brings together not only travelers, greeters or airport staff, but also people who prefer to just watch the airplanes, the so-called "plain spotters". But the airport also attracts birds that compete with the planes on the freedom of flight. Miroslav Christov was born in 1982 in Sofia, Bulgaria. Education: Bachelor in Philosophy and Master in "Contemporary Arts". Theater playwright with few staged theater plays and nominations for dramaturgy awards. He has worked also as a TV script writer. This is his first cinematographic project, a short documentary with low budget financed by the National Culture Fund of Bulgaria. Currently working on the script of a feature film with the Bulgarian director Boya Harizanova.
BG
Летището не събира на едно място само пътуващите, посрещачите или летищния персонал. Привлича и хора, които пътуват с поглед, т.нар. "плейн спотъри", чието хоби е наблюдението и заснемането на самолети. Привлича също и птици, които се съревновават със самолетите по свобода на полета. Ято птици близо до пистата е филм за тях.