How to discover our great selection for film lovers?
1.
2.
Fill in the information and create your new account (remember to read our Terms & Conditions)
3.
Once logged in, go to the Festivals tab.
4.
Choose the event you wish to attend (availability may vary per country)
5.
Discover our great selection of films and choose the one for you.
6.
Click on the price* button to rent the film
7.
Rent the film and enjoy!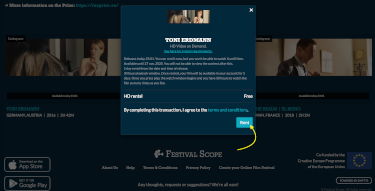 *When price is 0.00 film is for free. Please check our Terms & Conditions for more information about pricing.