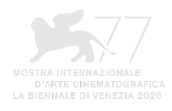 The Sala Web returns to the 77th Venice International Film Festival with a selection of films from the sections Orizzonti, Out of Competition, and Biennale College Cinema, with a limited capacity for each screening.

Some familiar names compose this year's line up like award-winning director Lav Diaz; Yulene Olaizola, from the Mexican arthouse scene; or Christos Nikou with his first feature after a few collaborations with Richard Linklater and Yorgos Lanthimos.

The selection also includes gems from Italy like NOWHERE SPECIAL from Luchino Visconti's nephew Uberto Pasolini, producer of 1997's THE FULL MONTHY; LA VERITA' SU LA DOLCE VITA a documentary from archive images on the story behind the Fellini's LA DOLCE VITA as 2020 celebrates the 100th anniversary of the master's birth; MOLECOLE from awarded director Andrea Segre (IO SONO LI, 2012).

Discover the selection of 15 films streamed simultaneously after their official presentations on the Lido from September 1 to 22.
Media partners: